OMNI Nurses in the News!
Could you ever imagine yourself in the news?  These foreign-educated nurses who came to Canada from the Philippines, Brazil, and Malaysia never expected to make the Canadian news, but their journeys of courage and commitment landed themselves in several media outlets across the country.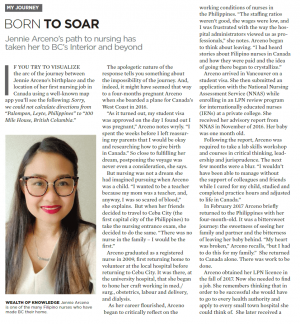 Jennie from the Philippines was recently featured in the BC Nurses Union magazine.  She came to Canada completely on her own, and when she was 4 months pregnant!  Ultimately, she became a Registered Nurse in Canada, brought her husband over, and her two sons were born in Canada.  Today, they all live happily as Permanent Residents and Canadian citizens on Vancouver Island in beautiful British Columbia.  Read her story on page 26 in the BC Nurses Union Magazine here.
Another 4 nurses, Tina, Jannabelle, June, and Ellie, all graduates of OMNI College, made it to the cover page of a New Brunswick healthcare employer magazine!  Read their stories here on page 19 of the Horizon Star Magazine.  They came to study at OMNI on a study permit, later successfully achieved their Canadian nursing licenses, and now all 4 have secured their Permanent Residency status as well.   Today, they live and work as RNs in the beautiful province of New Brunswick.  Three of them are from the Philippines, one is from Malaysia.
Alice came to OMNI from Fortaleza, Brazil.  She was featured online in the Staff Spotlight by her employer Vancouver Coastal Health.  Ever since graduating from OMNI College, she has been working successfully as a Registered Nurse in British Columbia, Canada.  Her job as a Community Health Nurse has opened even more doors to continually upgrade her nursing skills – even after becoming licensed in Canada. What was extra wonderful was that her continued education training was 100% subsidized by her employer and her wages were paid during the program too. Such an amazing perk to being a nurse for a health authority in Canada!
At OMNI College, we are extremely proud of our students and their accomplishments in Canada.  We are thrilled that their employers and health authorities have also publicly recognized their contributions as nurses.  They are clearly extremely valued, respected and are all enjoying a high quality of life in Canada.
About OMNI College
OMNI College specializes in preparing Internationally-Educated Nurses for work in Canada. The College is a government-designated, private post-secondary education institution located in Richmond, a bustling suburb of Vancouver, British Columbia, Canada. Visit www.omnicollege.com.  Learn more by signing up for an online information session.