National Nursing Week 2023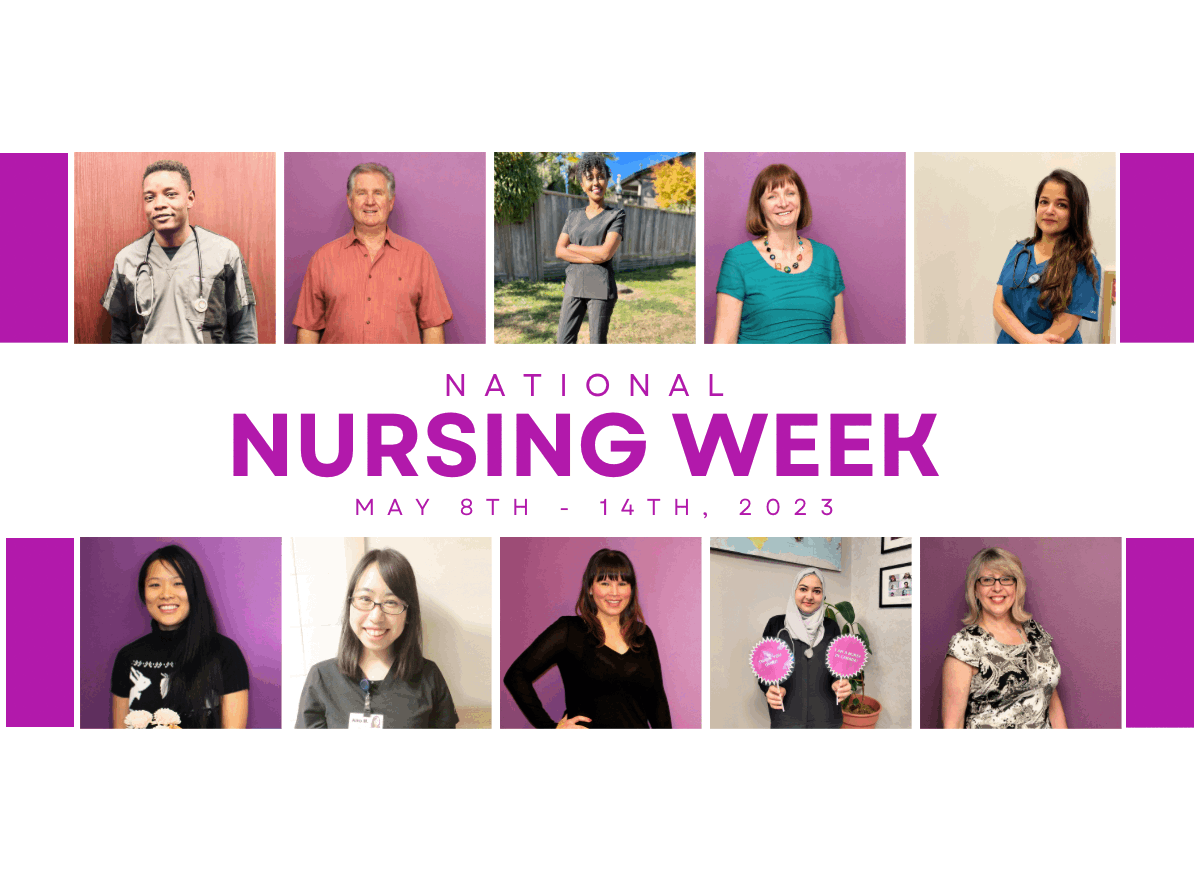 National Nursing Week 2023
National Nursing Week is the annual celebration of nurses in Canada. From May 8th – 14th we celebrate and honour the dedication, compassion, and commitment that nurses make to the healthcare industry and society as a whole. The theme this year is Our Nurses. Our Future. It showcases the various roles that nurses play in a patient's healthcare journey; and the critical role they hold in society as healthcare professionals who provide essential care to patients. Nurses also act as patient advocates, ensuring that their rights are respected, and their voices heard. Nurses are essential to the healthcare system, and their work contributes significantly to improving the overall health and well-being of individuals and communities.
This Nursing Week, thank a nurse. 
Show appreciation and recognition for the hard work and dedication of nurses. Share stories of nurses who have made a difference in the lives of their patients and their communities. 
Every nurse has been inspired by an educator, preceptor, mentor, role model or co-worker. Send them a message, or a thank you card or call them directly to let them know how valuable they are and how much you appreciate their guidance and support. We encourage everyone to join us in honouring and appreciating Canadian Nurses, nurse educators, and nursing students who maintain a high quality of nursing education and service.
To all nurses: thank you for dedicating your life to caring for others. Thank you for your commitment, your sacrifice and your resilience.  
About Nursing Week
National Nursing Week in Canada has a rich history that dates back to 1985 when the Canadian Nurses Association (CNA) declared the second week of May as National Nurses Week to coincide with Florence Nightingale's birthday, May 12th. 
In 1993, the theme "Nursing: A Force for Change – A Vital Resource for Health" was introduced to highlight the role of nursing in shaping healthcare policy and improving patient outcomes. Over the years, National Nursing Week has evolved to include a wide range of activities and events, such as nursing conferences, award ceremonies, and community outreach programs, to raise awareness about the importance of nursing and promote the profession. 
Messages from our Nursing Faculty
"When I graduated from University so many years ago, I could never have imagined how much Nursing would impact my life. I have had the opportunity to meet so many amazing nurses from around the world and together with our wonderful team, shared a part of their journey in becoming Canadian RNs. This has enriched my life beyond measure. Wishing all of the Omni staff, students and grads a very Happy National Nursing Week! – Louise Levinson, Program Director 
"Being a nurse is not just a profession, it's a calling. It takes courage, compassion and a lot of caffeine to make it through nursing school. But in the end, it's worth it because we make a difference in the lives of others" – Cherry Chen, Nursing Instructor 
"Dear Students, as Nursing Week approaches, I want to take a moment to express my heartfelt appreciation for each and every one of you. Your commitment to nursing and unwavering dedication to providing exceptional care inspire us all. It is an honour to be part of your journey at OMNI  College, witnessing your growth and development as you pursue your dreams of becoming extraordinary nurses. 
The past year has presented unprecedented challenges, and yet you have risen above them with resilience, compassion, and an unwavering commitment to your patients. Your passion and determination are truly remarkable, and I am grateful to have you as students.
Thank you for choosing Omni College as your educational partner, and I am excited to see the positive impact you will make in the lives of others. Wishing you a meaningful and rewarding Nursing Week, filled with appreciation for your invaluable work. With deepest gratitude and admiration." – Ron Burke, RN, Founder & Director
"A 19th-century poet, Longfellow, wrote: "Kind hearts are the gardens, Kind thoughts are the roots, Kind words are the flowers, Kind deeds are the fruits, Take care of your garden…Fill it with sunshine, Kind words, and Kind deeds." 
I feel this poem reflects what is required of a healthcare provider today and moving forward. But, unfortunately, the perceived narrative that all that is required of a healthcare provider is clinical knowledge, expertise, and perfection has landed us where we are today- a broken healthcare system. 
We (nurses) have shown immense resiliency, dedication, and commitment over the last couple of years while navigating a tremendously difficult road through the pandemic. But unfortunately, we have also endured great moral distress and compassion fatigue. Our psychological and physical safety has been tested on a shift-by-shift basis. 
Therefore, as we celebrate International Nurses Week, we must commit to being kind to ourselves, our peers, and, just as importantly, to our patients and clients accessing healthcare services. Regrowth in the healthcare system will encourage nurses to bring their authentic selves back to the workforce and provide holistic care to our patients, creating a high level of wellness for each individual. Nurses are the folks who can and will nurture this healthcare system back to optimal function and positive outcomes, and this must be celebrated." – Brandi Dan, RN, Lead Clinical Lab Instructor